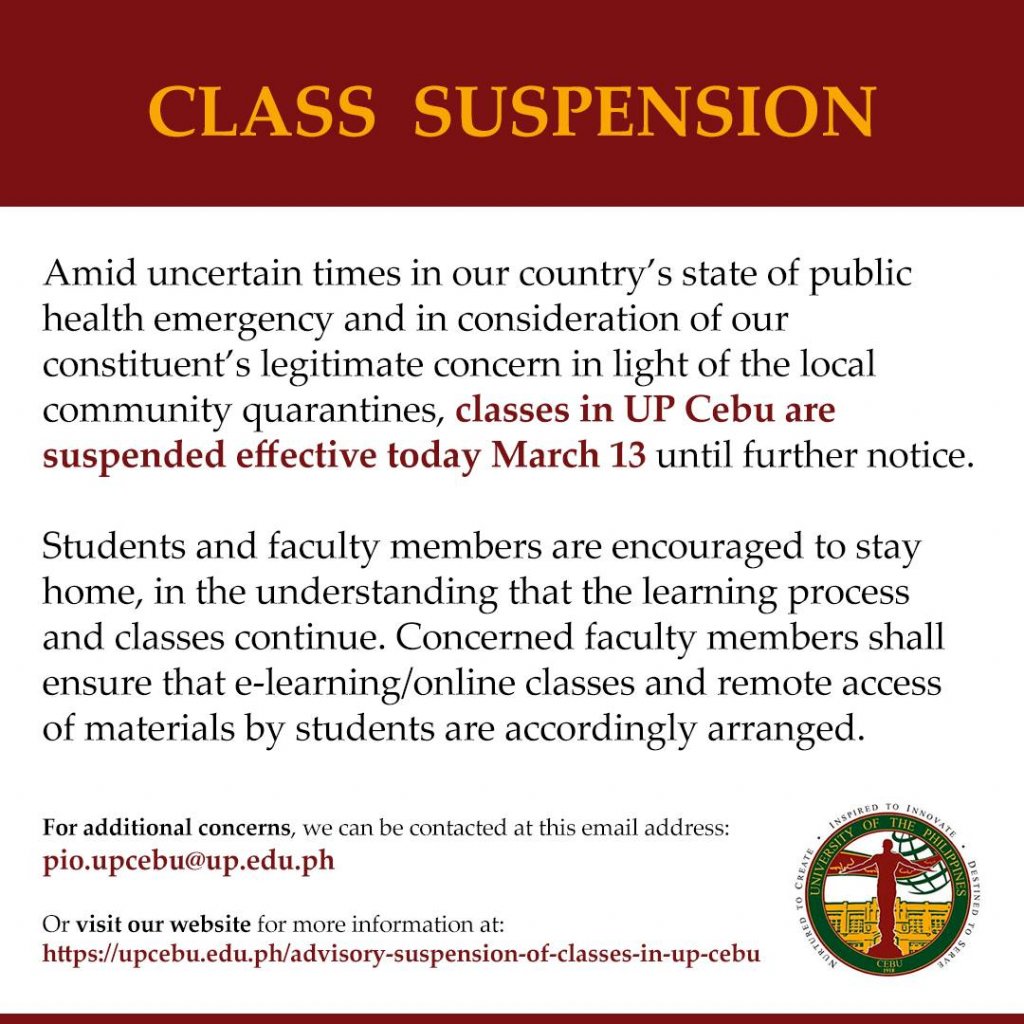 12 March 2020
MEMORANDUM NO.:  CLDC-2020-054
TO:
ALL FACULTY THROUGH THE DEANS
ALL STUDENTS THROUGH THE OSA; USC CHAIR
CC:
ALL OFFICE HEADS
FROM:
ATTY. LIZA D. CORRO
Chancellor, UP Cebu
SUBJECT:
Suspension of Classes in UP Cebu
Amid uncertain times in our country's state of public health emergency and in consideration of our constituent's legitimate concern in light of the local community quarantines, UP Cebu is suspending our classes and declares immediate pre-emptive actions in our transition to full blended learning pedagogies. These emergency actions in this transition period include the following:
Students and faculty members are encouraged to stay home, in the understanding that the learning process and classes continue. Concerned faculty members shall ensure that e-learning/online classes and remote access of materials by students are accordingly arranged. We enjoin all faculty members to participate in the trainings being scheduled to upgrade our capacity for online classes. Please make the necessary arrangements with your students as we entrust to our faculty members the continuous conscientious delivery of learning amid this crisis.
All campus events, including Intramurals, shall also be suspended until conditions become more stable. Likewise, all field research and community extension activities (e.g. CENVI and FireCheck fieldwork, Pahinungod extension services, etc.) are suspended.
UP Cebu shall remain open, with minimal workforce, so our key university services continue to be made available to constituents who need to stay and access our facilities (e.g. internet, learning resources and library, dormitory, health services, etc.) for their learning needs. The skeletal workforce shall thus be maintained in the administration.
These transition contingencies shall take effect promptly on 13 March 2020 until further notice.
For immediate compliance.
Thank you for your cooperation and understanding. Be safe everyone.