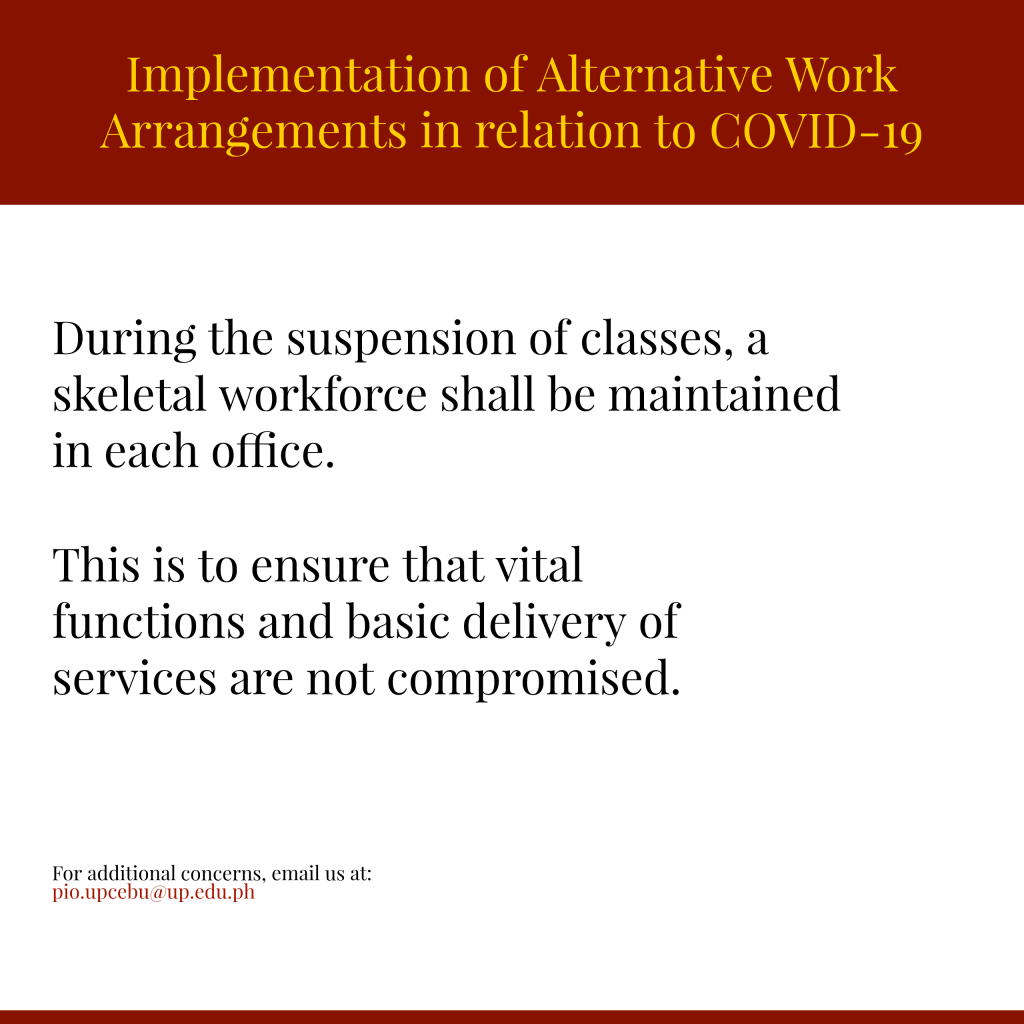 ORIGINAL MEMO: ADVISORY: Suspension of Classes in UP Cebu
13 March 2020
MEMORANDUM NO.:  CLDC-2020-056
TO:
ALL NON-TEACHING PERSONNEL THRU THE OFFICE HEADS
CC:
OVCAA; OVCA; HRD
FROM:
ATTY. LIZA D. CORRO
Chancellor, UP Cebu
SUBJECT:
Implementation of Alternative Work Arrangement in relation to COVID-19  
RELATED: Addendum to Suspension of Classes in UP Cebu
Pursuant to CLDC Memorandum No. CLDC 2020-054 dated 13 March 2020, during the suspension of classes, a skeletal workforce shall be maintained in each office. This is to ensure that vital functions and basic delivery of services are not compromised. Thus, alternative work arrangements shall be arranged. In this regard, please be guided by the following:
Heads of Units must discuss the work schedule of their staff members, including Contract of Service (COS)/ Job Order (JO) workers, for period of class suspension, and identify who will be working in the office and from home/ on-call. At least one (1) staff member must be in the office for any given day.
A work schedule identifying the employees and COS/JO workers who will work in the office/home must be submitted to the HRDO on 16 March 2020 (Monday). Offices/Unit heads must monitor the daily schedule of staff rotation working in office/ working from home.
Heads of Office shall ensure that key tasks to be accomplished and deliverables by staff who will work from home, are clearly agreed and stipulated in writing. A template is attached for staff working from home to fill out for monitoring purposes, to be submitted at the end of every workweek during the suspension period.
Aside from the nature of work and exigency of service, the proximity of the staff's residence to the campus (i.e. residing within or in areas near the campus) shall be a key factor in identifying who may be requested to report in the office and the frequency of their reporting within the week. This serves as a measure to minimize the movement, hence, the risks for the staff and his/her community and the UP community.
Offices/Units are discouraged from assigning senior citizen employees and those who have existing medical conditions.
The SSU and HSU shall stay in full force during this emergency period.
For your guidance and compliance.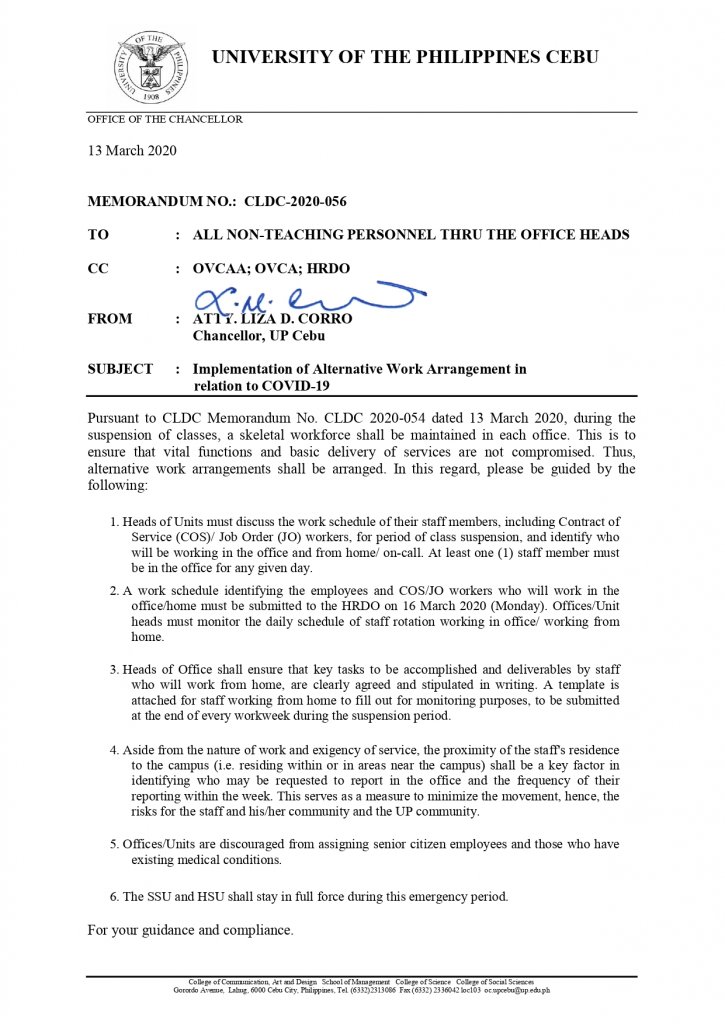 Download Memo on Implementation of Alternative Work Arrangement