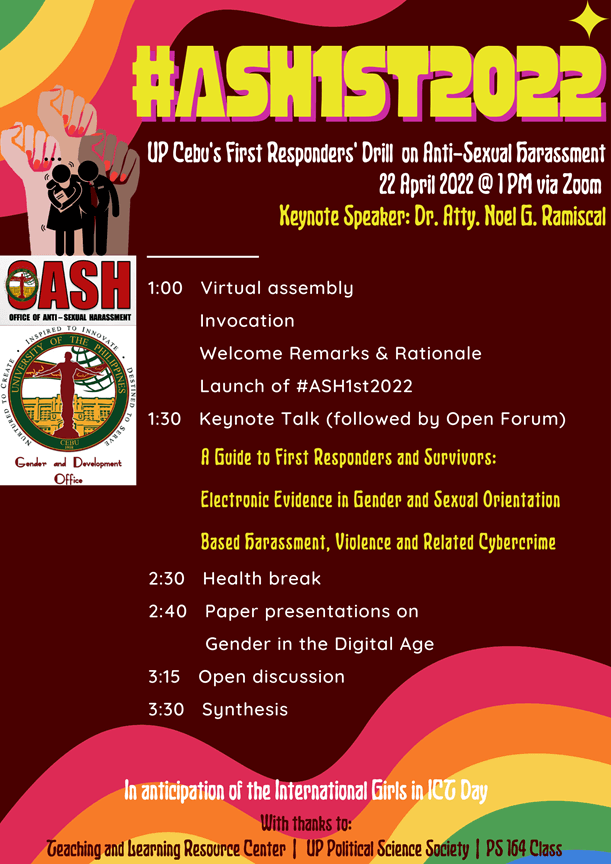 The Office of Anti-Sexual Harassment (OASH) and the Gender and Development Office (GAD) invite you to be part of the Launch of UP Cebu's First Responders' Drill (#ASH1st2022) this coming Friday, 22 April 2022, at 1 PM.
Anticipatory of the International Girls in ICT Day, #ASH1st2022 is launched as a firm step towards building a more enabling environment for the reporting and appropriate handling of sexual harassment in UP Cebu. To highlight this event is the Keynote Talk entitled "A Guide to First Responders and Survivors: Electronic Evidence in Gender and Sexual Orientation Based Harassment, Violence and Related Cybercrime" by cyber law expert and LGBTQIA rights advocate Dr. Atty. Noel G. Ramiscal.
Let us all take this step forward in ensuring the safety of our learning and workspaces and in actualizing a culture of zero tolerance for sexual harassment in UP Cebu.
This event will also be live-streamed at the TLRC YouTube Channel.
Register here: https://bit.ly/ASH1st2022.